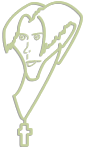 The Basketball Diaries
Film Tie-In (4th) Edition: Penguin, 1995




The Basketball Diaries


Film Tie-in (4th) Edition
By: Jim Carroll
Published: 1995
Publisher: Penguin
Format: Paperback
Cover photo: Leonardo DiCaprio by John Clifford


The 1995 Penguin edition of The Basketball Diaries is a tie-in with the 1995 film starring Leonardo DiCaprio. The cover features photo of Leonardo DiCaprio (by John Clifford. Film credits and a new blurb are on the back cover.



See Also
The Basketball Diaries page