Ticket Stubs


These are ticket stubs that have been sent to me by Jim Carroll fans or are from performances I have attended.
Tickets from The Bottom Line
New York, NY (12 November 1998)
Signed by Lenny Kaye
Cassie Carter

The Bottom Line 11/12/98
On the evening of November 12, 1998, Jim Carroll performed his first rock concert since the demise of The Jim Carroll Band in the mid 1980s. There were two shows, back to back, and I attended both--sitting so close to the stage that I had a better view of Jim's shoes than of anything else. It was an incredible experience . . . better than I can describe. Lenny Kaye, who made special guest appearances for the encores, sat in the audience directly behind me during both shows.
---

Links
Photos by Gail Ames
Review by Bob Baurkot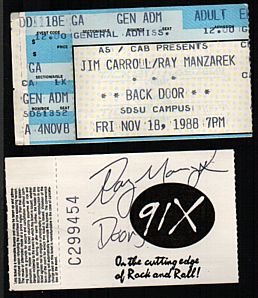 Tickets from The Back Door
San Diego, CA (18 November 1988)
Signed by Ray Manzarek
Cassie Carter

The Back Door 11/18/88
This was the second time I saw Jim Carroll read. I was a graduate student at San Diego State University and The Back Door was a little club on campus. The show that night was a double bill: opening for Carroll were Ray Manzarek of The Doors and Beat poet Michael McClure. There were supposed to be back-to-back shows, too, so I of course bought tickets for both. I arrived early to get a seat up front--and by "seat" I mean a place on the floor because there were no chairs. Well . . . although I didn't care much for McClure, I enjoyed listening to and watching Ray Manzarek. The down side was that when they finished . . . Jim still wasn't there. So they kept going. They must have gone on for three hours by the time Jim arrived! It was, of course, worth the wait: this show was the only time I have ever seen Jim read from The Basketball Diaries.
Ticket from Cornell University
Ithaca, NY (3 March 1997)
Cassie Carter

Cornell University 3/3/97
When I heard Jim Carroll would be doing a music and spoken-word show with Lenny Kaye at Cornell University during MSU's spring break, I jumped in my car and made the ten-hour road trip to see it. It was worth the trouble, believe me.
---

Links
Photos of the performance
Review by Jade Chang
Review by Cassie Carter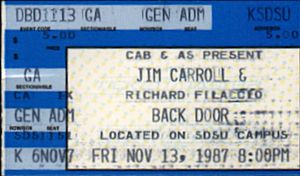 Ticket from The Back Door
San Diego, CA (13 November 1987)
Cassie Carter

The Back Door 11/13/87
This ticket stub is from my first Jim Carroll reading--an event that literally changed the direction of my life. For details, you can read the diary entry I wrote after the performance. In 1990, the entry had become part of the first chapter of my 200-page master's thesis on Carroll.
Ticket from The Cotton Club
Atlanta, GA (13 April 1996)
Signed by Jim Carroll
Jerry Leveillee

Link:Cotton Club review by Michelle Webb


Ticket from First Avenue
Minneapolis, MN (18 June 1996)
LaVerne Kreklau

Ticket from The Paradise
Boston, MA (29 September 1988)
J. Matthew Martin

Ticket from Y-Not-II
Milwaukee, WI (7 May 1999)
TJ Richter


Link: photos of the show

If you have ticket stubs, autographs, photos, or any other souvenirs and artifacts you'd like to share, I'd love to add them to this page. Send me an image by email or snail mail a hard copy to the P.O. box address on the Fan Info page. Be sure to NOTwrite "ATTN: Jim Carroll" on the package or it will go to Jim instead of me!