Living at the Movies
Second Edition, 1982
Get this book on Amazon.com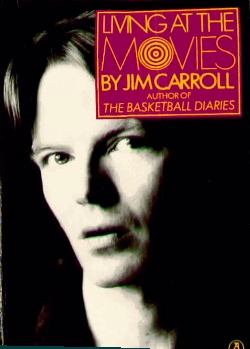 Living at the Movies
Second Edition
Published: 1981
By: Jim Carroll
Publishers: Penguin
Length: 100 pages.
Format: paperback
Cover design: Neil Stuart
Cover photo: Michael halsband
Living at the Movies is Jim Carroll's first major collection of poetry; it earned him a Pulitzer Prize nomination when he was 22 years old. The back cover of the Penguin edition states:
"In these poems, all written before the age of twenty-two, Carroll shows an uncanny virtuosity. His power and poisoned purity are reminiscent of Arthur Rimbaud, and, like the strongest poets of the New York School, Carroll transforms the everyday details of city life into poetry. In language at once delicate, hallucinatory, and menacing, his major themes--love, friendship, the exquisite pains and pleasures of drugs, and above all, the ever-present city--emerge in an atmosphere where dreams and reality mingle on equal terms...."
The Penguin edition, with a cover featuring a photograph of Carroll, is widely available. Also, all of the poems in Living at the Movies are reprinted in Fear of Dreaming, listed below. The Penguin edition is a great reading edition.
If you are a collector, look at the Grossman edition, which features cover art by Larry Rivers and was issued in both hardcover and paperback; both are hard to find.
See Also: