Home > Background > The Basketball Diaries > Pascal Ulli's Stage Adaptation > Review by Dan Bacalzo

On Top of the Fringe: A Critic's Notebook
Jim Carroll's The Basketball Diaries by Pascal Ulli


During the first ten days of the fifth annual New York International Fringe Festival, I caught 20 of the approximately 180 shows being performed. In addition, I chatted with performers, audience members, and fellow journalists in order to get that Fringe experience. The New York festival often doesn't seem as unified as others I've attended—mainly because it doesn't have a designated bar where participants hang out, drink, and share stories. But if you hover around the Fringe long enough, you discover that it's still got the special energy that makes these festivals exciting.

What makes FringeNYC possible is its large volunteer base: Roughly one third of the participating artists donate extra time to help staff box offices and concierge desks, which are also manned by supportive locals. Volunteers are often the ones who know which shows are hot, or who have the information on special opportunities at the Fringe. For example, one volunteer urged patrons to fill out an audience ballot by plugging a contest co-sponsored by TheaterMania. "Not only can you vote for your favorite show of the festival," she enthused, "but you can enter a drawing to win two tickets to The Producers!" Then with a slight drop in vocal intonation, she added: "Ironic, I know."

* * * * * * * *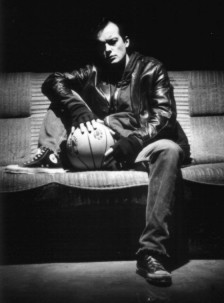 Pascal Ulli in Basketball Diaries

Since the Fringe is an international festival, I always try to attend several shows from outside the U.S. I figure if a production goes to the effort to come all the way over here, it must have something. With shows like Studio, this is certainly the case; but not always, as evidenced by Jim Carroll's The Basketball Diaries. Although based upon an American novel, this production starring Pascal Ulli hails from Switzerland. Ulli plays Carroll, a junkie writer growing up in Manhattan in the 1960s. Although the performer has a strong stage presence, the show lacks focus and direction. Extended sequences during which Ulli speaks with a slurred vocal intonation are nearly unbearable. Transitions between scenes are also handled awkwardly, with the actor leaving the stage for long stretches of time.

* * * * * * * *


NOTE: Bacalzo's review of Jim Carroll's The Basketball Diaries has been excerpted from a longer article. Bacalzo also discusses Debbie Does Dallas; a panel at FringeU, the educational arm of the festival, titled "Why Won't You Review My Play? A Critic's Roundtable"; Hustle; the "Busking Bonanza" at Tompkins Square Park; Photograph; Studio; Urinetown; and Fuck You, or Dead Pee-Holes. --Webmaster

The original, complete article was found at http://www.theatermania.com/news/shownews/index.cfm?story=1608&tm

Copyright © 1999 by TheaterMania Inc. All rights reserved.